I must be feeling lazy lately because I keep coming up with recipes from the food I have in my frig and pantry. I guess that's a good thing. At least I'm using what I already have at my disposal rather than going and purchasing new ingredients.
I love chicken burgers, newly discovered about 5 years ago. I can eat them without feeling sick afterwards. That is so long as I don't overdo the ingredients I add to the ground chicken meat.
I had a craving for spaghetti and meatballs from a local owned restaurant here in town, but knew I'd regret it almost immediately following my last bite. However, indulging in butternut squash spaghetti or zoodles wouldn't give me that same stuffed, and miserable feeling. Especially since it's actually a veggie rather than a starch.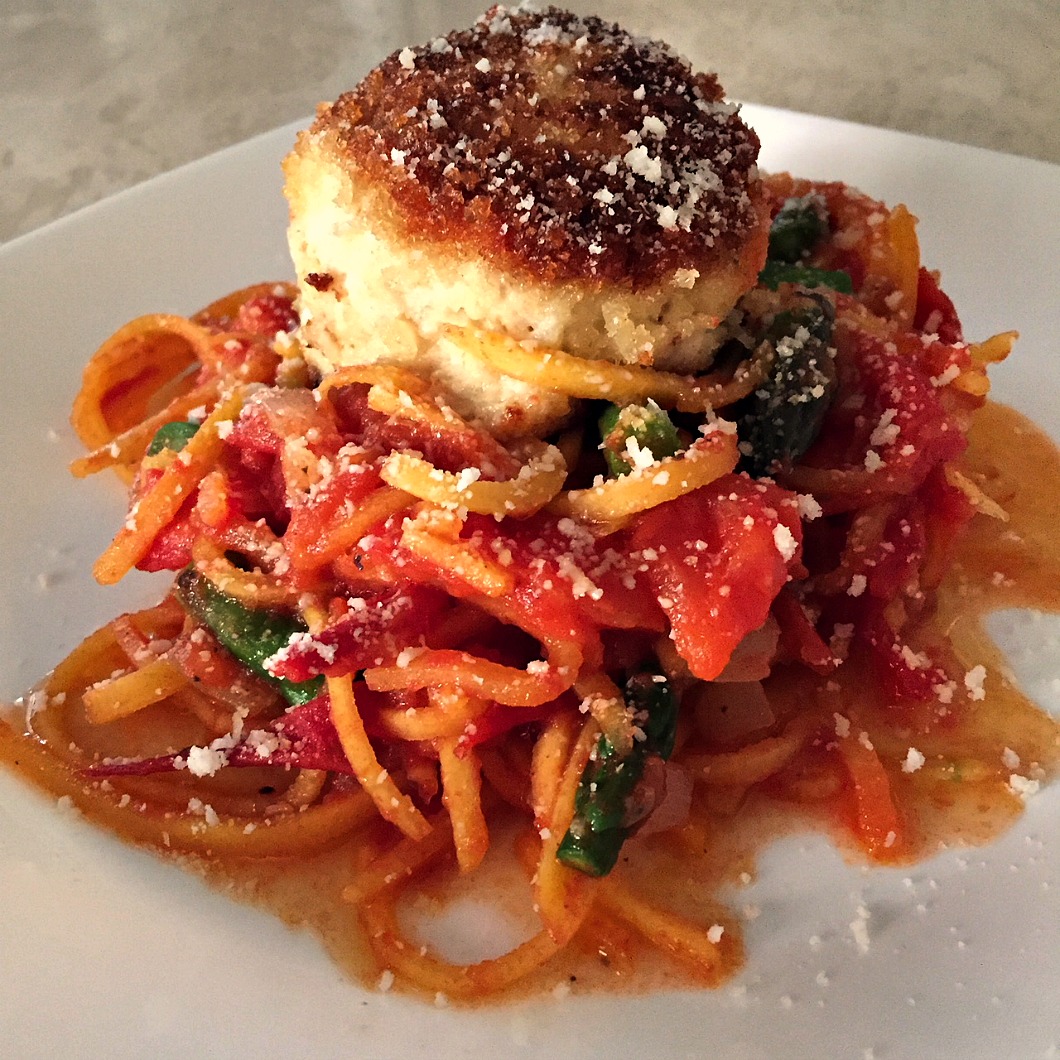 CHICKEN MEATBALLS WITH BUTTERNUT SQUASH SPAGHETTI
yield: 4 SERVINGS
prep time: 20 MINUTES
cook time: 20 MINUTES
total time: 40 MINUTES
You won't even miss the beef when you try my Chicken Meatballs with Butternut Squash Spaghetti!
INGREDIENTS:
1 pound ground chicken breast
1 egg
1/2-3/4 cup Progresso Italian Bread Crumbs
1/4-1/2 cup Parmesan cheese
1/2 cup Panko Bread Crumbs
Salt & Fresh Ground Pepper
Butternut Squash Zoodles (Whole Foods)
10 Roma Tomatoes, seeds removed (or Large Can of San Marzano Whole Peeled Tomatoes)
1/2 bunch asparagus, cut into bite size strips
1/4 cup chopped onions
1 clove garlic, minced
4 fresh basil leaves, sliced chiffonade
1 Tbsp. olive oil
DIRECTIONS:
Meatballs: In a large bowl add ground chicken breast, and egg to combine. Add in Progresso bread crumbs, Parmesan, salt & pepper. The texture should be sticky but able to hold a shape when rolled into a ball, not dry. If not add additional bread crumbs. Using a tablespoon, scoop up a heaping scoop of chicken mixture. Roll into a ball (golf ball size). Repeat with remaining meatballs.
Roll meatballs into Panko Bread Crumbs. Set aside or in the refrigerator until ready to cook.
In a large saute pan add olive oil. Once hot add chicken meatballs and cook. Roll to brown all sides. If oil starts to splatter, reduce heat, and place a lid on top until meatballs are cooked through. Don't overcook!
Spaghetti: In a large saute pan, add olive oil. When hot add in chopped onions and garlic. Saute until onions have softened and translucent. Add tomatoes and cook until juices come out and tomato skins have softened. Add fresh ground pepper, butternut squash spaghetti and asparagus. Blend together and cook until asparagus gets bright green and butternut squash are al dente, add basil. Remove from heat.
Plate: Add butternut squash spaghetti, top with 1-2 meatballs, sprinkle with fresh grated Parmesan. Serve


---

---

---
To read more about this post, and other exciting recipes, and tips, continue………….
Vicki Bensinger has been teaching culinary classes throughout Missouri since 1992. However, she saw the need for more specialized classes and in 2004 established "At Home with Vicki Bensinger", offering personalized private culinary classes for individuals and small groups (ages 7 to adult) in the comfort of their home or organization.
Having an In-Home Culinary Class is the perfect way to get together with friends while you learn to cook, hone your culinary skills or just have a fun time with friends and food.
If you'd like to learn more about her classes please email Vicki at: linking text or vkb2@hotmail.com
Please follow her on Facebook
Member:
"IACP"
"Women Chefs & Restaurateurs"
Please check out Vicki's blog where she shares recipes, tips, videos, giveaways and everything food related. The recipes Vicki has posted on her blog are recipes she hopes everyone will be able to prepare.
Happy Cooking!
Source:
https://www.vickibensinger.com/2018/05/chicken-meatballs-butternut-squash-zoodles.html
We encourage you to Share our Reports, Analyses, Breaking News and Videos. Simply Click your Favorite Social Media Button and Share.